Angry Man
Portrayed by
Michael Patric
He is sent by Anna to cast Jack Landry in a negative light to all. The agent went to an evening service at St. Josephine's Church conducted by Jack. He interrupts Jack's message, claiming to have lost his wife in the recent suicide bombing and blames Jack. The ensuing exchange escalates into a fight between him and the Parishoner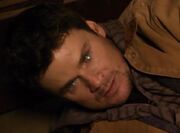 Chad Decker was also there and actually saw the agent's reptillian eyes exposed.
Jack
breaks the fight up, saying that the blood is on his hands, and not the
Parishoner
, that if the agent wanted to fight, that he should fight with
Jack
. He then leaves the church with his mission accomplished.
Unbeknownst to Jack and others, the fight was recorded by Tyler Evans, which later finds its way on to the national media.("Laid Bare")
Ad blocker interference detected!
Wikia is a free-to-use site that makes money from advertising. We have a modified experience for viewers using ad blockers

Wikia is not accessible if you've made further modifications. Remove the custom ad blocker rule(s) and the page will load as expected.