Bob Briggs
Profession
cop for the L.A.P.D.
Officer Bob Briggs worked diligently within the police force just doing his job. He supervised the roadblocks that kept the scientists in the city. He was harsh on those who tried to run them, leading fellow officer
Randy
to speak out against him. He was fooled by
Sancho Gomez
who told Briggs he was going to El Tepeyac, a restaurant and Randy allowing the Maxwells to escape. On the way back through he caught and arrested Sancho. he also witnessed the destruction of a visitor shuttle he was close to explode knocking him back courtesy of ruby engels.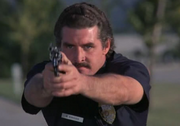 Ad blocker interference detected!
Wikia is a free-to-use site that makes money from advertising. We have a modified experience for viewers using ad blockers

Wikia is not accessible if you've made further modifications. Remove the custom ad blocker rule(s) and the page will load as expected.