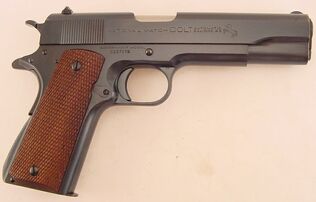 The Colt M1911A1 was a pistol that was used as a sidearm for the Resistance against the
Visitors
in the original series. The weapon had no changes, only that the ammunition which is a .45 ACP has been made out of Teflon which like the
Colt M-16
's Teflon 5.56x45mm NATO ammunition will pierce the Visitor's armor. In the original series,
Mike Donovan
was seen wielding a Colt M1911A1 after his Colt M-16 ran out of ammunition, this was the episode titled "The Overlord" . This weapon in real life has a 7 round magazine as well and holds the popular .45 ACP.
Ad blocker interference detected!
Wikia is a free-to-use site that makes money from advertising. We have a modified experience for viewers using ad blockers

Wikia is not accessible if you've made further modifications. Remove the custom ad blocker rule(s) and the page will load as expected.