David
Profession
Assistant Medical Officer
Fifth Column Member
David was a medical officer on-board the New York mothership, an assistant to Joshua, and a fellow member of the Fifth Column.
Biography
Edit
Anna learned about Dale Maddox's murder and demanded Joshua to investigate. When Joshua and David reported that they had no leads, Anna had them gather the entire staff. David insisted that Joshua leave the mothership as he is the Column's best hope, but Joshua refused.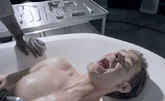 With the medical staff assembled, Anna announced that if the guilty party did not come forward, she would randomly choose someone to set an example. Joshua was about to confess, but David sacrificed himself and stepped forward instead. Anna then ordered Joshua to skin David.
Later, a reluctant Joshua prepared the skinning of David, who was immobilized on an operating table. David told Joshua that his death would be meaningless if he did not follow through. Because Anna suspected him, Joshua had no other choice but to skin David alive. This sentence has apparently been carried out, although mostly off-camera. ("It's Only the Beginning")
Ad blocker interference detected!
Wikia is a free-to-use site that makes money from advertising. We have a modified experience for viewers using ad blockers

Wikia is not accessible if you've made further modifications. Remove the custom ad blocker rule(s) and the page will load as expected.