The Federal Bureau of Investigation (FBI) is an agency of the United States Department of Justice that serves as both a federal criminal investigative body and an internal intelligence agency. Fifty-six field offices are located in major cities throughout the United States.
Soon after the arrival of the Visitors, the FBI set up a group of Agents to work together on the Visitor Threat Assessment Joint Task Force.
New York Field Office
Edit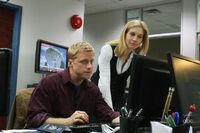 Known Employees
Edit
Ad blocker interference detected!
Wikia is a free-to-use site that makes money from advertising. We have a modified experience for viewers using ad blockers

Wikia is not accessible if you've made further modifications. Remove the custom ad blocker rule(s) and the page will load as expected.