Grace
Profession
V Sleeper Agent
Grace was a Visitor sleeper agent pretending to be the girlfriend of John May's son James May. She was living at his house when members of the Fifth Column visited the May household.
Biography
Edit
Grace was first seen alongside a group of 20 other Visitors who were addressed by Marcus as being sleeper agents. He informed them about the devices given to them and reminded the agents that they were imbedded in key positions.
Grace's key position was living with James May and was pretending to be his human girlfriend. When questioned casually by Erica Evans and Kyle Hobbes, Grace claimed to be from Los Angeles, where she was a student at UCLA, and said that she hadn't been living in the May house for very long. Erica tricked her when she said that the Trojans are amazing, to which Grace agreed. Erica then revealed that the Trojans aren't UCLA (they're USC) and that it's the UCLA Bruins.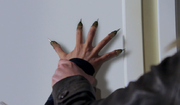 Cornered, Grace tried to attack Erica and Kyle, and revealed reptilian claws from her fingernails. She tried to slay Erica, but Kyle snapped her neck from behind, killing Grace. James May then saw her body and claws and left the house with the
Fifth Column
. Although a device Grace placed under the counter began to vibrate and glow. ("
John May
")