Jennifer
Profession
{{{Profession}}}
Jennifer is a child who lived in the country with her parents. During the Second Invasion one year after Liberation Day, Jennifer's parents were both killed by the invading Visitor armies, leaving her an orphan, and she became a Resistance sympathizer. She was part of a group of orphaned children brought to
Father Turney
's underground railroad, and was safely delivered to a foster home in Los Angeles with the other orphans with assistance from
Mike Donovan
,
Ham Tyler
, and
Chris Farber
.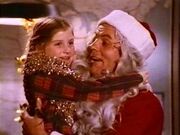 Even as Ham Tyler was rough on her by saying grouchy things to her, she seemed attached to him and tried to cheer him up. Eventually she broke through and Tyler dressed as Santa Claus for the orphans at Christmas.
Ad blocker interference detected!
Wikia is a free-to-use site that makes money from advertising. We have a modified experience for viewers using ad blockers

Wikia is not accessible if you've made further modifications. Remove the custom ad blocker rule(s) and the page will load as expected.