Rafael
Profession
Peace Ambasader
Portrayed by
Charlie Carrick
Raphael
is a young man from Europe, Spain, and is one of the 29 potential mates for
Lisa
. After
Tyler
shows signs of resisting the change in
Phosphorus
levels through
Red Rain
,
Anna
and
Joshua
look for an alternative mate for
Lisa
.
Rafael
is found to have the best
Phosphorus
levels amongst the 29 potential mates, and
Anna
arranges for him to be brought aboard the New York
Mothership
to be entertained by
Lisa
.
Anna
meanwhile, arranges for
Tyler
to be away for flight training, so as to clear the way for
Rafael
.
Lisa is unable to make out with Rafael as she has feelings for Tyler, and disrupts their first meeting, much to Anna's fury.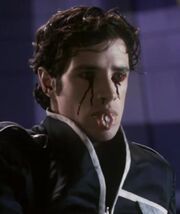 Lisa tries to meet with Rafael once again to allay Anna's suspicions of her loyalty. As they are kissing, Tyler walks in on them and starts to assault Rafael. Lisa asks them to stop fighting, when Rafael manifests symptoms of his DNA structure collapsing, bleeding from his eyes and foaming at his mouth. He is rushed to the medical facility, where he is in critical condition.