Ad blocker interference detected!
Wikia is a free-to-use site that makes money from advertising. We have a modified experience for viewers using ad blockers

Wikia is not accessible if you've made further modifications. Remove the custom ad blocker rule(s) and the page will load as expected.
Roy was a paralyzed man until the Visitors healed him. He is looked after by Father Jack Landry and Father Travis at St. Josephine's Church.
Biography
Edit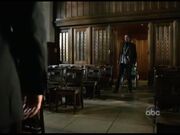 When the Vs arrive and the earth begins to shake, Roy is at St. Josephine's Church, being the only regular person to go there other than a heroin addict. A crucifix statue almost falls on him but Jack pushes him out of the way on time. Shortly after the arrival of the Visitors, he amazes Jack by standing up out of his wheelchair, claiming that the visitors have cured him. ("Pilot")