Skinning
a
Visitor
is a punishment meted out to traitors. It is unknown whether that means removing its cloned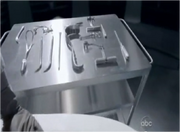 human flesh or its own flesh. It is also unknown whether this is a torturous capital punishment or merely torture. Given that the cloned human flesh appears to be connected to the Visitors' nervous system, even just removing the cloned flesh, while not fatal, would still
feel
like being skinned alive.
According to Ryan, a V can only survive for thirty minutes after being skinned, implying that the nervous system is not just the connection between human skin and V flesh.
Known skinnings
Edit
Ad blocker interference detected!
Wikia is a free-to-use site that makes money from advertising. We have a modified experience for viewers using ad blockers

Wikia is not accessible if you've made further modifications. Remove the custom ad blocker rule(s) and the page will load as expected.