Sophie Allen
Portrayed by
Jaimie Mortimer-Lamb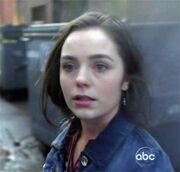 A teenage runaway, who was the target of abduction by the
Visitors
for experimentation. She had runaway from her mother,
Betty Allen
and was walking down an alleyway when she was sedated by a
Visitor
tracker, who placed her unconscious body in the back of the van.
Erica and Ryan, while trying to discover Sarita Malik's assignment on Earth, discover about the abductions, and eventually save Sophie before she gets transported to the Mothership. They bring her back to her mother, and they have a tearful reunion. ("Laid Bare")
Ad blocker interference detected!
Wikia is a free-to-use site that makes money from advertising. We have a modified experience for viewers using ad blockers

Wikia is not accessible if you've made further modifications. Remove the custom ad blocker rule(s) and the page will load as expected.