The V Soldier 1 was the first Visitor soldier to be sent to the Earth's surface. He was sent to capture Valerie Stevens after Anna found out about her hybrid baby she was carrying. In the process, he killed at least two people (Henry and Susan Thompson), and the level of destruction he caused required Marcus to follow him and clean up his mess.("We Can't Win")
Abilities
Edit
Main article: Visitor soldier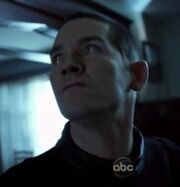 V soldiers are bred for combat only and have great physical strength and tenacity - this one survived, an axe blow midway through his chest. He was also an able tracker, finding
Ryan Nichols
and Valerie without apparent technological assistance. He often used his real reptilian eyes instead of his human ones, presumably for their superior vision. He also seemed to be able to follow scents. He is a super-strong V, and presumed son of Anna.
The soldier tracked Ryan Nichols and Valerie Stevens when they went into hiding. They were only able to escape, as Kyle Hobbes wounded the soldier with an axe. This apparently wounded, but did not kill him, and he presumably returned to the Mothership to report his failure.
Ad blocker interference detected!
Wikia is a free-to-use site that makes money from advertising. We have a modified experience for viewers using ad blockers

Wikia is not accessible if you've made further modifications. Remove the custom ad blocker rule(s) and the page will load as expected.