Biography
Edit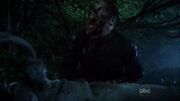 This
Visitor
Soldier is first seen feeding on an animal in the wild and tracking someone. It is later revealed that he is tracking
Valerie Stevens
.
He knocks out Dr. Leah Pearlman and captured Valerie Stevens, just as Valerie Stevens was going into labor. He returned with Valerie Stevens to the New York Mothership.
He is seen again amongst the security detail behind Anna when Ryan Nichols gets on board the New York Mothership, demanding to see Valerie Stevens. ("Red Sky")
He is seen again as one of the guards restraining Ryan Nichols after he is caught stealing a visit to see his hybrid daughter. Anna confronts Ryan Nichols and banishes Ryan back to Earth, leaving Ryan's hybrid daughter behind. The soldier is amongst the guards who then escort him out.("Red Rain")
Ad blocker interference detected!
Wikia is a free-to-use site that makes money from advertising. We have a modified experience for viewers using ad blockers

Wikia is not accessible if you've made further modifications. Remove the custom ad blocker rule(s) and the page will load as expected.