The Visitors have technologies far advanced beyond Human knowledge. They use this knowledge to leverage access to the planet for resources.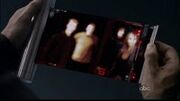 Ability to cure over sixty-five different ailments but allegedly cannot cure the common cold.
Neurological scan
Cure cancer (original series and new series)
Technology
Edit
Gravity manipulation
Induced hallucinations
Unscramble modulated voices
Interstellar travel
Interstellar communication
Transportation
Edit
Holographic monitors
Patch-on video camera

Sewed on to the fronts of the Peace Ambassador jackets

Virtual Reality "replay" of brain-captured memories
Holographic remote conference attendance

Participants' appearance remains over a device - they don't appear to interact ("

A Bright New Day

")
Ad blocker interference detected!
Wikia is a free-to-use site that makes money from advertising. We have a modified experience for viewers using ad blockers

Wikia is not accessible if you've made further modifications. Remove the custom ad blocker rule(s) and the page will load as expected.