Will Lerner
Status
Unknown, Presumed Dead
Profession
New York MTA Employee
Portrayed by
Michael Karl Richards
Will Lerner works in the New York MTA, and was selected for the live aboard program by the Visitors. Erica infects him with a DNA virus so as to upset the Visitor DNA harvesting for their Breeding Program. She does this by planting the virus into his morning coffee.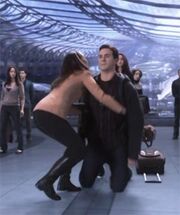 As he arrives at the New York
Mothership
, Will begins to feel unwell, and collapses as he is about to check-in. He is rushed to the medical facility, where
Joshua
discovers evidence of the DNA virus and its potential side-effects on their DNA harvesting if it had gone undetected.
Anna
orders everyone to be rescreened, cleaned and then all those carrying the virus are to be labeled as
Fifth Column
in order to explain their execution. Will Lerner is painted as a suicide bomber who killed himself aboard the New York
mothership
. The virus plan failed, but the good news is that the world now knows that the
Fifth Column
is still around. ("
Uneasy Lies the Head
")
Ad blocker interference detected!
Wikia is a free-to-use site that makes money from advertising. We have a modified experience for viewers using ad blockers

Wikia is not accessible if you've made further modifications. Remove the custom ad blocker rule(s) and the page will load as expected.